Unlock Sonic Brilliance with the WiWU Thunder P40 Wireless Speaker - Your Ultimate Audio Powerhouse for an Unrivaled Euphonic Adventure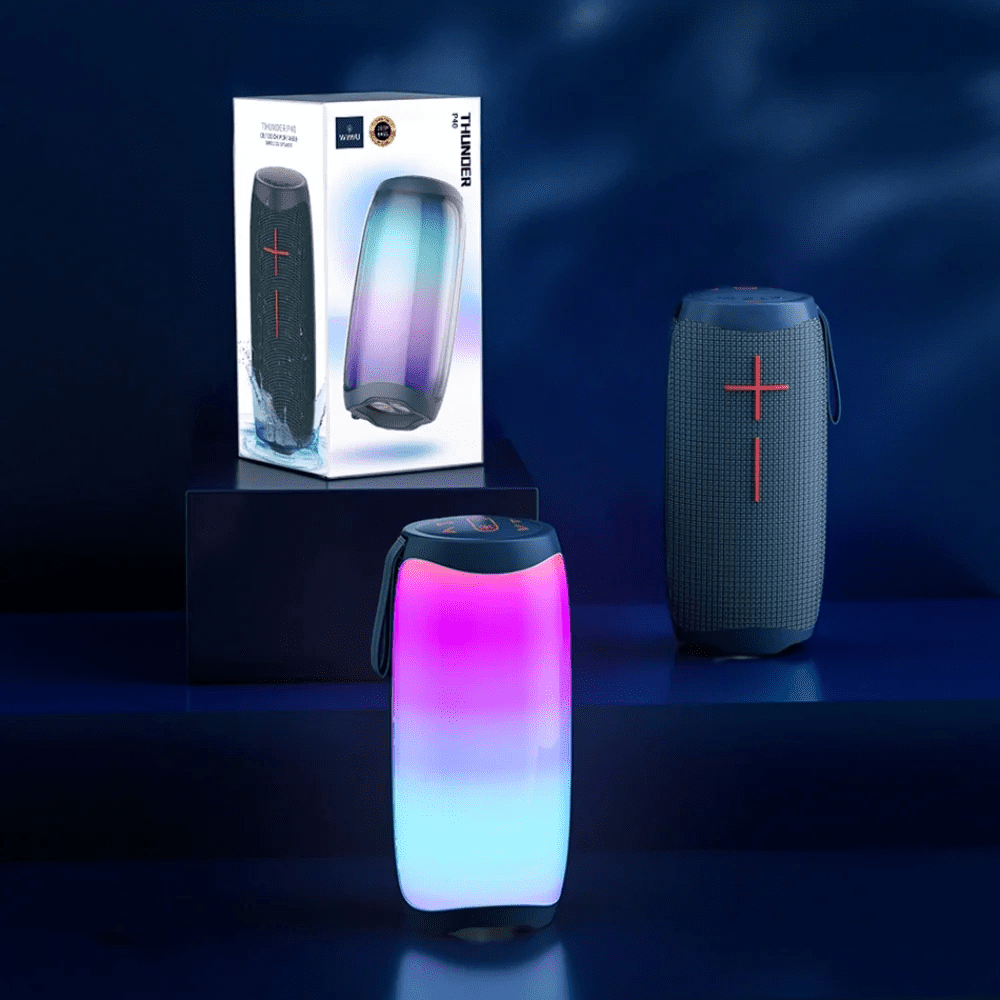 Unlock Sonic Brilliance with the WiWU Thunder P40 Wireless Speaker - Your Ultimate Audio Powerhouse for an Unrivaled Euphonic Adventure
Regular price
Rs.17,999.00
Rs.17,999.00
Sale price
Rs.12,999.00
Rs.12,999.00
Save Rs.5,000
---
Buy with Confidence: 100% Guaranteed Original Items
Hassle-Free Replacements: No Questions Asked
Express 12-Hour Dispatch & Free Shipping
In stock, ready to ship

Inventory on the way


Immerse yourself in a world of color and sound with the WiWU Thunder P40 Wireless Speaker. This top-of-the-line speaker transforms your music experience, enveloping you in the rhythm of your favorite tunes while enveloping you in a mesmerizing display of RGB Dazzle Lights.
Key Features:
Bluetooth 5.0 Technology: Quick and reliable connection with low power consumption.
LED Dazzle Light Show: Syncs with your music to provide a stunning visual experience.
Waterproof IPX6 Rating: Fear no splashes or raindrops; perfect for outdoor adventures.
Versatile Playback Options: Enjoy your music through Bluetooth, FM radio, TF Card, USB flash drive, or Aux audio input.
Immerse Yourself in Sound:
Quality Audio Performance: Crisp and clear sound that can fill any room or outdoor space.
12 Hours of Playtime: Keep the party going with up to 12 hours of battery life.
Designed for Convenience:
Portable with Hanging Lanyard: Take your music with you, whether you're heading to a party or embarking on an outdoor adventure.
Sturdy and Durable: Built to withstand occasional knocks or accidental drops.
Technical Specifications:
Model: P40 Thunder
Battery Capacity: 3,000mAh
Frequency Range: 100Hz~10KHz
Bluetooth Version: 5.0
Bluetooth Transmission: 10 meters
Play Modes: Bluetooth, FM Radio, Aux Audio Input, TF Card, USB Drive
What's In The Box:
1x WiWU Thunder P40 LED Color-Changing Portable Bluetooth Speaker
1x USB-C Charging Cable
1x 3.5mm Aux Cable
1x Manual Guide
Transform your listening experience with the WiWU Thunder P40 Wireless Speaker. With its stunning visual display, quality audio performance, and versatile playback options, it's the ideal choice for music lovers who crave a dynamic and immersive experience